• art • black and white • color • exhibition • exhibition opening • gallery • nature • nature photography • photography • so foto galleri • travel photography
"He shoots from the hip" it was told about the photographer Mikael Kårelind. And yes, he does, but the ability to see, to capture that very moment is Kårelind's absolute strength. Now So Foto Galleri is showing a collection of black/white and color images ranging from travels in Asia, Europe, and the USA, to curious cows, cats and birds in his place in West Götaland. Animals and nature are obvious motifs, but the great passion is to photograph people in motion. Humorous and thought-provoking, populated images. Speed ​​and fresh breeze are always permanent with great respect for those who are depicted....
---
• analog • art • black and white • exhibition • exhibition opening • gallery • Ramunas Danisevicius • retrospective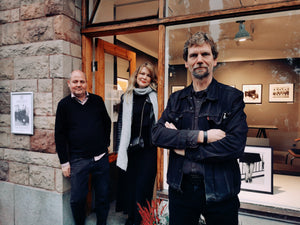 As photo gallery, were extremely happy to present the exhibition RETROSPECTIVE by Ramūnas Danisevičius with the VERNISSAGE on the 4th of November 2022. Ramūnas Danisevičius, was not only participating during the exhibition opening, but also during the rest of the weekend, which were whole 2 days dedicated for meeting the gallery visitors and photography lovers. This is becoming a tradition which means that when we have the exhibition opening on Friday, the photographer or artist is in the gallery meeting the visitors. This was the first personal exhibition for Ramūnas Danisevičius in Sweden, in Scandinavia and in Northern Countries. We...